English Newsletters2022.04.08
A New Local Train Departure Melody for Hamamatsu City
In your country, do songs play as the train takes off? In Japan, you can hear unique train melodies at several railroad stations. There is a regional railway in Hamamatsu called the Enshu Railway, connecting the city center to about 20km up north. It is an indispensable local transportation system, familiarly nicknamed "Akaden" (red train) for its red carriages. The train melody for Shin-Hamamatsu Station, the first station on the Akaden train line, was created just recently.
As part of the "Sound Design Festival in Hamamatsu 2021" and in cooperation with the Enshu Railway, this project pushed the boundaries of the creativity of sound by incorporating the sounds found in the local region to make a melody that is unique to Hamamatsu.
The work was commissioned to composer Minoru Mukaiya, a former member of the jazz fusion band "Cassiopeia." He adopted the sound of bugles, which are always played in the traditional Hamamatsu Festival. To this, he added pianos and violins to create a free and easy 8 second long melody..
Having worked on train melodies for railroads throughout Japan, Mr. Mukaiya is deeply interested in trains and has incorporated the city's characteristics and culture into the melody after visiting Hamamatsu.
By converting sounds that are rooted in our daily lives into those evocative of the region, this interesting project has turned out to be a rediscovery of the region's charms. We are sure such activities will also lead to the discovery of new possibilities of sound.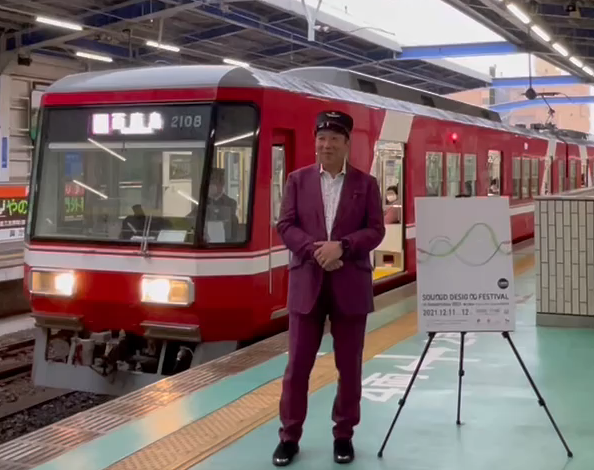 Mr. Mukaiya and a "Akaden" train at the ceremony
Click here for the videos of Minoru Mukaiya and the train departure melody of the Enshu Railway:
https://www.creative-hamamatsu.jp/projects/sdf2021/topics/%e9%81%a0%e5%b7%9e%e9%89%84%e9%81%93%e6%96%b0%e6%b5%9c%e6%9d%be%e9%a7%85%e7%99%ba%e8%bb%8a%e3%83%a1%e3%83%ad%e3%83%87%e3%82%a3%e3%83%bc%e3%82%92%e5%90%91%e8%b0%b7%e5%ae%9f%e3%81%95%e3%82%93%e3%81%ab/
For more information about Sound Design Festival in Hamamatsu 2021, click here for our past articles:
https://www.creative-hamamatsu.jp/blog/the-sound-design-festival-in-hamamatsu-2021/