English Newsletters2023.04.06
International Music Exchange
On December 1 2014, Hamamatsu was designated as a Music City in the UNESCO Creative Cities Network (UCCN). Since then, Hamamatsu has been collaborating with other Creative Cities around the world in the field of music and has held various events such as the World Creative Cities Forum, the World Music Festival and the Sound Design Festival.
This article will spotlight a recent music exchange program for student brass bands held in March between Meadows School, a private high school in Nevada, USA, and Seisei High School here in Hamamatsu.
The program planning started when an inquiry was received from Meadows School. They had initially discovered us as a fellow member city in the UCCN Field of Music; they were similarly impressed by the UCCN's philosophy and chose us as the location for their students' music exchange. The Hamamatsu Cultural Foundation, which works to promote the music culture of Hamamatsu, undertook deliberations on behalf of the City and searched for a school in Hamamatsu which could participate in the exchange – finally settling on the brass band of Seisei High School.
The exchange program was held on March 14. The students of Meadows School first paid visit to the Hamamatsu Museum of Musical Instruments (website listed below), which exhibits various types of musical instruments from around the world. They then moved to the Sala Music Hall for the music exchange, with 30 students from Meadows School and 60 from Seisei High School participating. The event program started with a welcome concert by the student band of Seisei High School, followed by ensemble performances from both schools. Then, Mr. TSUCHIYA Fumito, Seisei's music advisor and a tuba player offered them some performance guidance.
Through this exchange, students from both schools came to realize that there are students of the same generation who enjoying music just as they do; and that music can connect them to the world through live performances, which cannot be experienced through a screen. We hope that this experience of creating music together as an ensemble, and transcending language, nationality, and cultural barriers, will act as a source of valuable nourishment for their future musical activities and lives.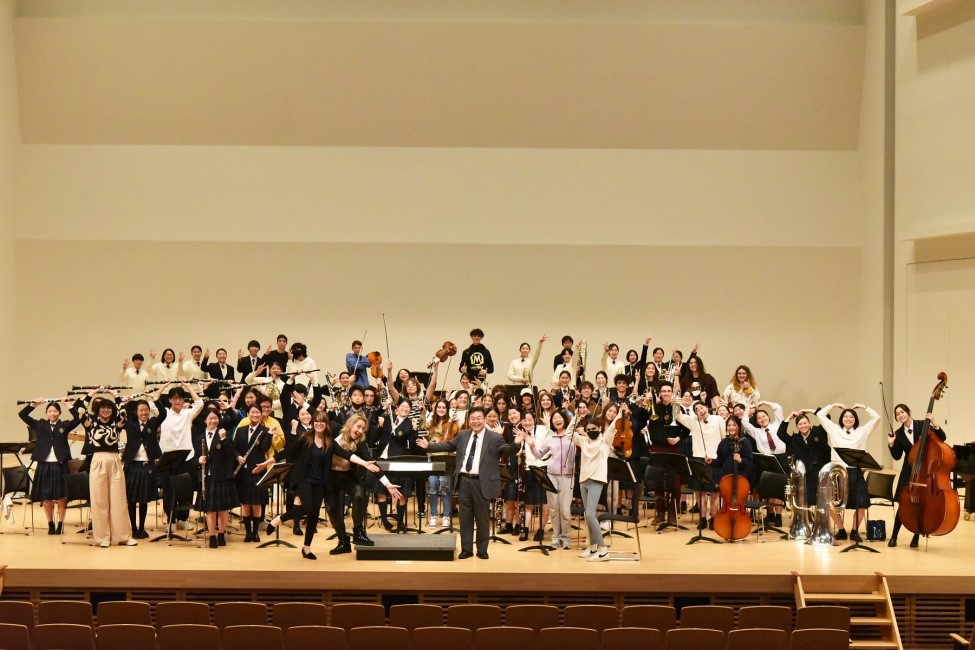 Hamamatsu Museum of Musical Instruments:https://www.gakkihaku.jp/
Articles about the Museum: https://www.creative-hamamatsu.jp/blog/hamamatsu-museum-of-musical-instruments-activities-against-the-covid-19/