English Newsletters2022.06.03
Promenade Concerts at Hamamatsu Station
If you happen to walk out of Hamamatsu Station, the gateway to our city, on a sunny weekend, you may be greeted by live music! Every Saturday afternoon from April to November (excepting August), concerts will be held in "Kitara" plaza, right in front of the station to welcome visitors to Hamamatsu City.
These concerts are known to local residents as the "Promenade Concerts." They are open-air concerts which are attended by a wide range of brass band groups based in the city, ranging from elementary school students to adults. Each performance lasts anywhere between 10 to 30 minutes, so you can stop on your way out of the station to enjoy listening to the live music anytime. It is also free of charge. The concerts, which started in 1984, have attracted many people and help in creating a lively atmosphere in the city center.
There are also choral performances called "Machikado (Street-corner) Concerts" and some concerts comprising of a variety of musical genres including jazz, dance and Japanese Taiko drumming called "Machinaka Nigiwai (Bustling City Center) Concerts". Every performance gives the audience an opportunity to enjoy live music casually in their daily lives while also giving the performers the opportunity to show off the fruit of their labour.
When you visit Hamamatsu, why don't you stop by and enjoy the "musical hospitality" offered by our residents?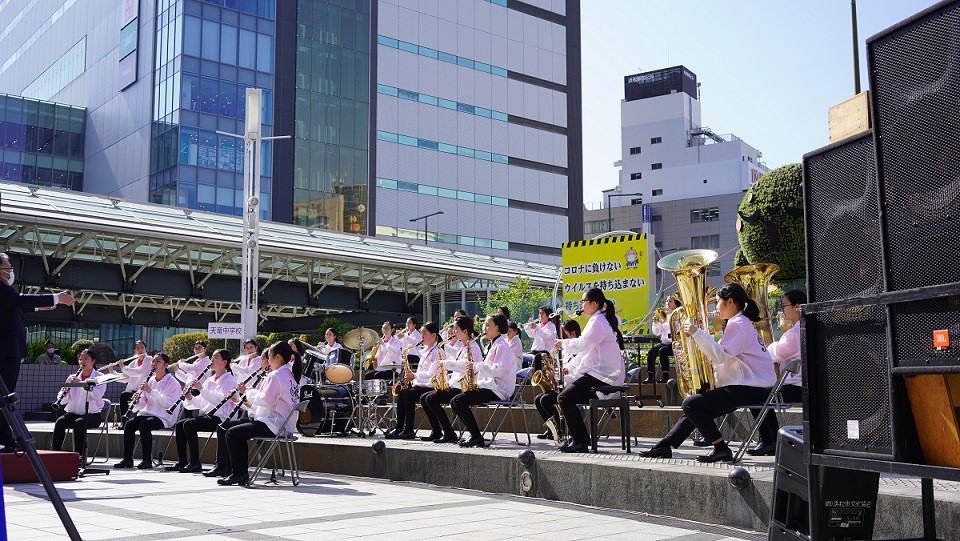 The Promenade Concert on 9th of April 2022
You can enjoy the concerts on YouTube here: