English Newsletters2022.06.03
Hamamatsu City Launches a Dedicated Website to Attract Visitors to our City.
The tourism industry around the world has been heavily impacted by the COVID-19 pandemic since 2020, and Japan is no exception. The number of foreign visitors to our country has dropped by some 87.1% to 4.12 million visitors in 2020, down from 31.88 million visitors the year previous. (Source: Japan Tourism Agency)
In the hopes of promoting more tourism, Hamamatsu City has launched a special website in English (https://visit.hamamatsu-japan.com) to provide easy-to-understand tourist information about the city. Five videos have been specially made for the website under the concept of "Music" and offer some unique angles of Hamamatsu. Each of the videos is about 30 seconds long and are all available to watch from YouTube as well. Make sure to check them out! Enjoy!
1 Have a Funky Time in Hamamatsu: Hamamatsu is home to world-renowned musical instrument manufacturers such as Yamaha, Kawai and Roland. This video introduces cool spots like the Nakatajima sand dunes, and famous gyoza restaurants in the city while funky rhythms from a variety of genres play in the background.
https://www.youtube.com/watch?v=OdoFY7YVH6k&t=1s
2 Have a Classic Time in Hamamatsu: This video shows the ropeway over Lake Hamana and, Hamamatsu Flower Park all lit up, amongst other images. It is all wrapped together with the comfortable melodies of classical music.
https://www.youtube.com/watch?v=osFLYnoe9MQ&t=23s

3 Have a Jazzy Time in Hamamatsu: In this video, Okura Act City Hotel and a Hamamatsu Gyoza restaurant takes center stage accompanied by the dulcet tones of a jazz trio.
https://www.youtube.com/watch?v=Ln4vjJNlqAY&t=2s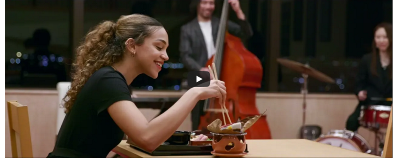 4 Have a Rocking Time in Hamamatsu: In this video, we experience an exciting hike around the Lake Hamana area with views of both the low mountains and the Pacific Ocean.
https://www.youtube.com/watch?v=j71li29mb9s

5 Have a Banging Time in Hamamatsu: This video features the powerful beat of a Japanese drum that cuts through the silence at the historic Okuyama Hokoji and Ryotanji Temples.
https://www.youtube.com/watch?v=fx5pbEPpNSU&t=2s

For more information, feel free to check our other English website, "Meet Japan through Hamamatsu" here:
https://hamamatsu-japan.com
Have a good day!