English Newsletters2021.10.08
Bringing Hamamatsu's Yaki-Gyoza Culture to the World
Have you ever tried Yaki-Gyoza, Japanese Pan-Fried Dumplings? It's juicy, spicy and tasty. Gyoza originated in China where Boiled Dumplings is said to be more common. It was brought over to Japan and has evolved to suit our taste. It's one of the most popular dishes in Japan.
Typical ingredients are a mix of vegetable, mainly cabbage, and ground pork with eggs, herbs, soy sauce, oil etc. The mix is different from shop to shop, restaurant to restaurant. A teaspoon of the mix is put in the center of a round dumpling wrapper (also called a skin) and folded it in half to seal the edges together to form a crescent shape. This is a Gyoza!
Then, a dozen Gyozas are arranged in circle on a heated pan and cooked until they start to brown at the bottom. Adding some water and putting a lid over the pan until the liquid is gone. Sesame oil is added at the end. Done! Please eat them while hot with dipping sauce.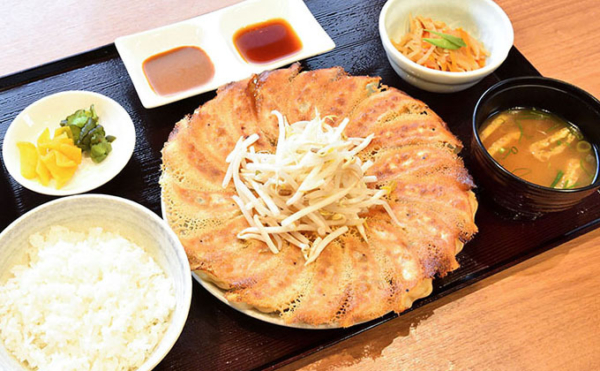 As a matter of fact, Yaki-Gyoza is deeply rooted in Hamamatsu culture as soul food. The city has been ranked the top of country in its consumption in value for many years. When you stroll around downtown, you will find signs of Gyoza in front of many restaurants. Supermarkets also sell a variety of Gyoza, cooked, chilled or frozen. Take-away shops and even vending machines selling Gyoza have been sprouting up lately.
With Hamamatsu's love of Gyoza and the City's long history as a manufacturing city, it is no surprise that there is a manufacturer of automated Gyoza-making machines located in Hamamatsu. Hamamatsu is a creative city in many fields such as gastronomy, manufacturing as well as music. Meet Mr. UKEI Tadashi, President of Toa Industry Co. The company enjoys the biggest market share in this field.
According to him, a flag ship model is capable of making 10,000 pieces of Gyoza an hour. What speed! More importantly, it can reproduce the original characteristics of Gyoza made at different shops or restaurants. Taste and texture are crucial. First, the Gyoza thoroughly analysed and quantified into numerical data to get information such as its overall size & weight, its skin's size & thickness, moisture content, ratio of the mix & skin etc. by the gram. Then, intangible elements acquired by many years' experience in this business and craftsmanship are added. This is how a machine is produced and fully fine-tuned to keep the original taste and texture of each shop or restaurant.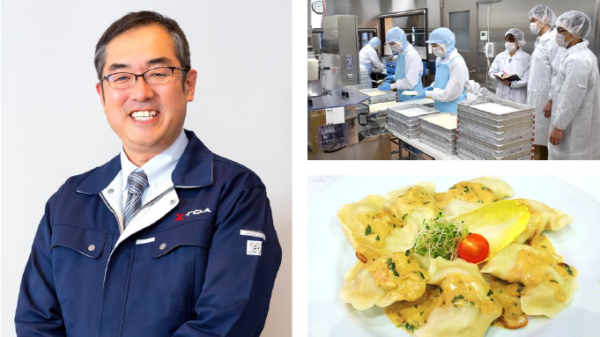 Mr. UKEI, possibly one of few people who have eaten the largest variety of Gyoza in Japan, won't be stopping at just creating Gyoza-making machines. He hopes for the opening of Gyoza factories across the world and the development of new flavours of Gyoza reflecting local tastes and culture. He wishes to support such businesses by offering his knowhow and technique in manufacturing and business. He believes that Gyoza has boundless potential in the ways that it could be eaten and made.
Has this piqued your interest in Gyoza now? I wonder what flavour of Gyoza would be popular in your city. It would be wonderful if spectators in sport stadiums around the world could enjoy Gyoza as snack one day. Or, if children could get it at food stands on the street in your neighbourhood. Before then, if you have a chance to come to Hamamatsu, don't miss out on having Gyoza for your dinner.
Toa Industry Co.: https://www.toa-industry.co.jp/english/
Brief history:
1963: "Toa Industry" originally started making molds for automotive parts.
1976: A large automated Gyoza-making machine, Model "T-8" went on market with its own brand name for the first time.
1988: A compact Gyoza-making machine was developed featuring taste and texture reproduction capabilities. It is fitted in and used by small shops and restaurants, and found remarkable success in Japan.
The company's market share in this field is 75% domestically and 35% internationally which makes it the No.1 shareholder worldwide!